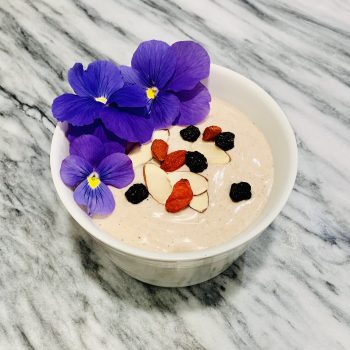 There is something so satisfying about completing a long training run or race. The release of endorphins is enough to perch any runner upon cloud nine. Upon completion of any demanding endurance endeavor, time is of the essence. Once an athlete completes an athletic pursuit, whether it be a training run or race he/she has a small window during which the body's absorption is heightened. If an athlete utilizes the 'window of opportunity,' as I like to call it (typically 5-30 minutes after exercise is complete) the body will recover much faster and reap the rewards the day after. It is for this reason I have created the perfect recipe for athletes to utilize the "window of opportunity. This recipe is the perfect recovery snack for the mountain trail runner or ultra-runner. It is very easy to prepare the night before and incorporates the ancient wisdom of Ayurveda. You can store this snack in the fridge overnight, put it in a thermal lunch bag with ice pack and it will be waiting for you at the end of your run. It has been named "CCC," because it contains coconut, chia seeds and cardamom. Furthermore, the recipe contains iron, electrolytes, healthy protein, fats and carbohydrate. Check out the recipe below and give it a try after your next long run or anytime for that matter… Enjoy!
CCC RECOVERY PUDDING 
PUDDING 
3 cups raw coconut water
1 cup raw cashews
1/3 cup raw white chia seeds 
1/4 cup raw young coconut meat 
2 tablespoons vegan vanilla collagen powder
1/2 tsp crushed organic cardamom 
1/4 teaspoon organic stevia powder
1 vanilla bean, scraped
GARNISH
raw and/or dried fruit
nuts & seeds
Serves 2-4
Place all pudding ingredients in a high speed blender and blend until smooth and creamy. Pour into a mason jar and refrigerate overnight to allow the blended chia seeds to expand. Serve the next day and enjoy!
Written and created by:
Jennifer Maley, Mother of 3, Mountain Trail Runner and Health Coach