Runner Spotlight ~ Jess Malone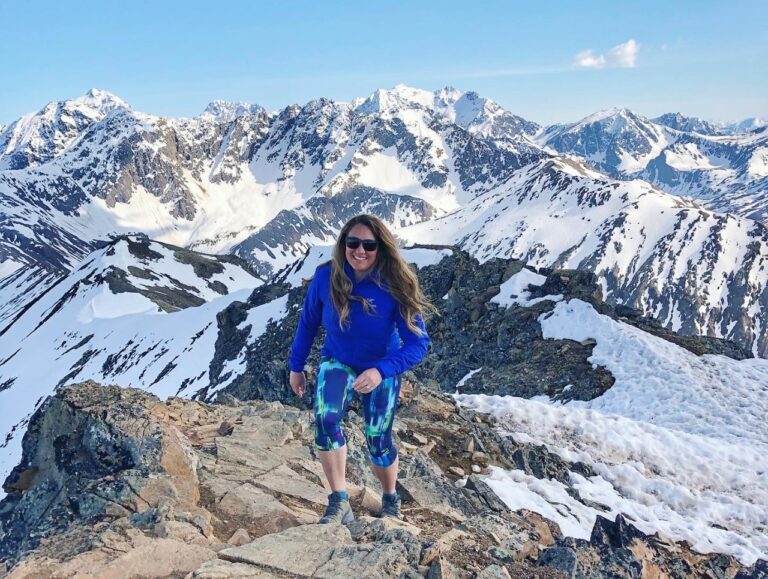 Hi! My name is Jess Malone, I am 44 years old. I have been married to my amazing spouse, Brian for 22 years.  We have two fun to be around, independent teenage boys.  We have been able to call Alaska home for over 12 years.
How did you get into running/mountain running?  
I have always said that I am not a runner (insert giggling), but the mountains have drawn me in, and I am falling in love with trail running.  I really like to call myself a jack of all trades, because I love almost any athletic outdoor adventure!  I love to hike, bike, downhill ski, cross country ski, trail run, backpack, and backcountry ski.  Being out in nature and cross training is what keeps me content and filled with gratitude.  The thing I love specifically about running is that I can easily get a good workout in in a relatively short period of time; that makes it really convenient.  
How does running inspire you?
Nature and being outside is what drives me to run!  Pushing and working my body makes me feel alive!
My current inspiration is my 17-year-old son and his girlfriend.  The girlfriend talked my son into doing his first race ever.  This summer they will be participating in the Anchorage Mayor's Half Marathon, and I get to join them!  They have inspired me to start a real training plan, using my husband's expertise as a physical therapist, I have started a running specific strength training plan along with gradually increasing my distance.
What is your favorite distance?
It depends!  If I am in the mountains, I can stay all day!
What are your top 3 adventures you have enjoyed?
Just yesterday I fat tire biked 25 miles out to an amazing glacier!  Everything about the day was perfection, so it has to go on my top three.  Going on adventures like that fills my soul.  Biking to that particular glacier was a new experience for me and I really appreciate the thrill of new places.
Another top 3 that comes to mind was taking a 3-day avalanche backcountry downhill ski course this winter.  I gained so much knowledge in a short period of time while enjoying the mountains.  And this is my first winter ever skinning up a mountain.  Earning my turns was a blast!
I am so blessed to live in Alaska because our mountain access is the BEST.  I find myself bagging peaks weekly and every time it grounds me and charges me up all at the same time!  Constant peak bagging has to be on my top 3 list.
Tell us how you got into skiing mountains?
I started downhill skiing when I was five years old, but I grew up in South Dakota, so it was just an annual ski trip until we moved to Alaska.  
Your favorite races?
My favorite race was actually a winter fat bike race called the Icy River Rampage!  This summer I am signed up to compete in my first ever mountain race called Veins of Gold out in Hatcher Pass.  It is 9 miles with 5,000 ft of elevation gain.  I have never done anything like this before, so I am very nervous and excited all rolled into one.  
Other hobbies?
I love exploring new outdoor places!  I love facing my fears (grizzly bears and avalanches) and seeing myself grow stronger.  I love spending time with my family, especially when we are camping, skiing (well they all snowboard) or traveling together.