Sun Valley Endurance Runs 50K Race Review
Sun Valley Endurance Runs 50K Race Review
Keith C. Wilson
It ain't your average 50K. I've never been a fan of that grammatically-incorrect contraction, but after about 66,000 muscle contractions in my quadriceps alone, my brain doesn't cooperate the way it normally cooperates. At the time of this writing, the day after the race, my body still hurts and my brain is still jostled. Without a doubt, it's the most brutal 50K I've ever run.
I'm not superstitious, but this race took place the day after a full harvest moon on Friday the 13th, and I was cautious as I approached the Warm Springs Lodge in the dark of 6:00 AM without another soul to be seen. I live in the area, and I'm familiar enough with the location, but I couldn't help but wonder if I was in the right spot. Had the building not been restored since last year's fire, it would be the perfect opening scene of a post-apocalyptic movie. Then I heard voices from the other side of the lodge, and I turned the corner to see the race directors standing huddled over a cardboard box with cardstock and markers to make our bibs.
This race was small, to say the least, but there is an appeal in that. If you want the glamour of professionally-printed bibs, dozens of aid stations, merchandise vendors, and predictable terrain, run a marathon. If you want something to tear your body open to distill your soul, enter a race like this one. If it were easy, everyone would do it. The few of us who decided to show up gathered inside the lodge, sipping last-minute hydration, performing dynamic stretches, and applying lubricant to our "problem areas." Then we went outside and began ascending the mountain under the light of the moon.
First, let's be honest. There's nothing "run" up any of those service roads. If I hadn't been awake yet, I was awake during that first bout of heart-pounding power-hiking until the road just barely kind-of flattened, and the course took us downhill onto some single-track to the River Run Lodge to reach the aid station. Then it sent us right back up on another service road until meeting again with some fantastic singletrack all the way to the top. Did I say fantastic? I meant difficult. There was another just-barely-kind-of-flat section on the top of the mountain before heading back down to do it all over again.
When it comes to the top of that mountain, or any views from any spot on the mountain, don't be fooled by talks of the breath-taking, panoramic views of Ketchum and the Boulder Mountain Range as you ascend through the smell of dewey evergreens. Don't be fooled by talks of a cool, crisp, mountain morning as you perspire away your worries and bask in the glow of a mountainside sunrise.This race is tougher than you-know-what.
The final section is a gradual downhill through some wildfire-burned trees. It was the least difficult, but it felt like it would never end. Then I smelled sulphur, and wondered who had gone behind a tree. Then I wondered if it was the gates of hell opening to claim my soul. Then I realized it was the odor from Warm Springs. I was getting closer, but not that close. I'd never actually run this section of the mountain before, and the switchbacks teased me with taking me farther away from the finish line every time it looked like I was getting closer.
I had the pain and the pleasure of crossing the finish line first, but I have to admit to having a home field advantage. It's called the waking-up-in-your-own-bed-on-race-day advantage, but truth be told, I was spent, like I'd run almost twice the distance. To put the brutality of this race in perspective, it was only about 45 minutes faster than my fastest 50-miler. It's because no one ever conquers a mountain. It's all about gaining a new perspective of it. It might be a perspective from the summit, from somewhere toward the base, or somewhere in between, but you know what kind of perspective I really mean. That's why we run these things.
Subscribe to our newsletter to see and hear about all the amazing mountain adventures we find out about around the world!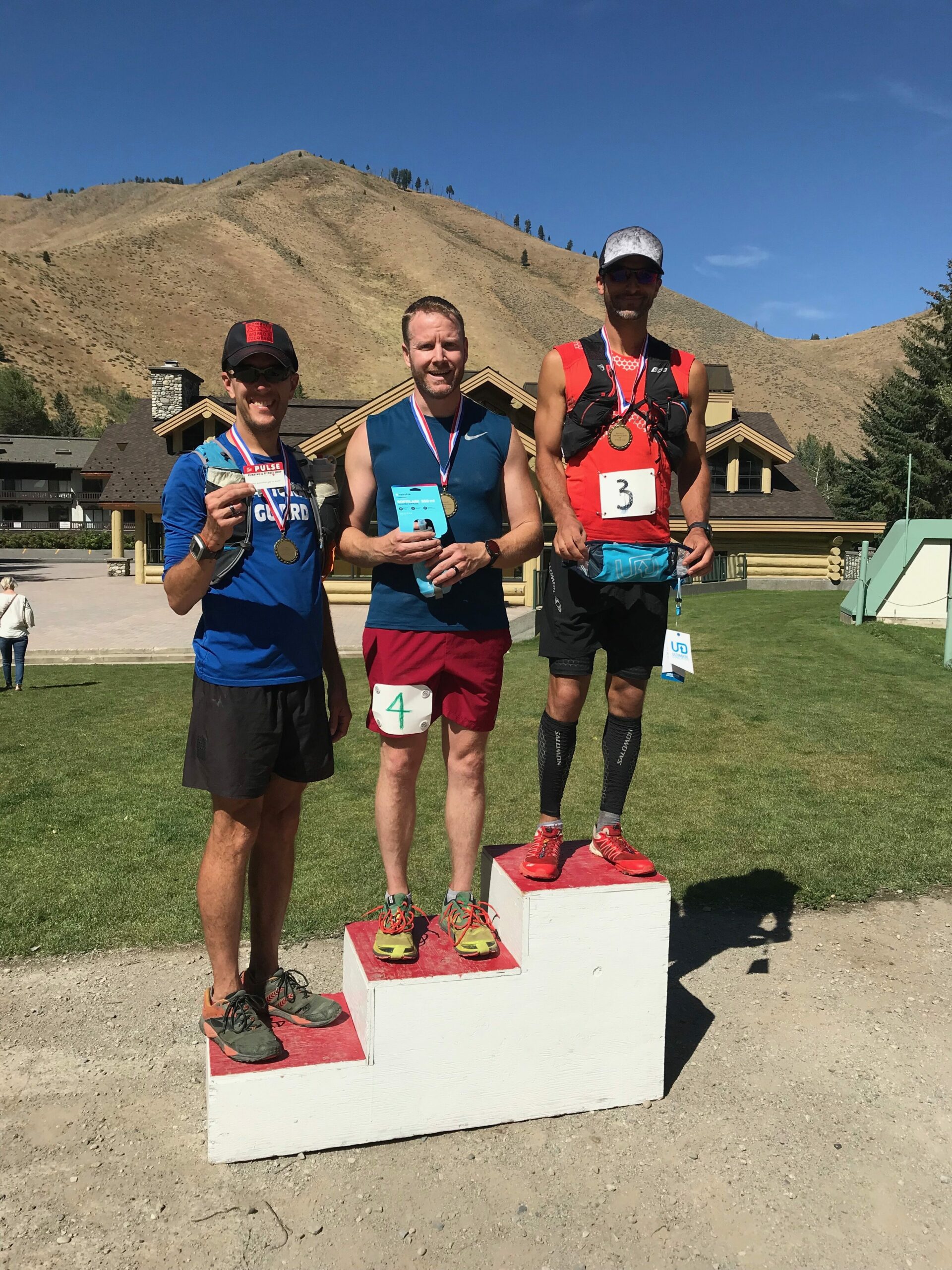 Keith Wilson – Hailey, ID  6:44:55

 Troy Siler – Pocatello, ID  7:26:18

Ben Blessing – Nampa, ID  7:53:49