AJ Zenkert Reflects on The River of No Return 108K Endurance Run
For me, traveling up to Challis, Idaho from Boise every year for the River of No Return Endurance Runs (RONR) is a pilgrimage that I look forward to with anxious anticipation. The trees, the trails, the dirt, the snow, the rushing water, the wildlife, the people; all of it calls to me. 
People often think of "pilgrimage" as a religious experience, yet for me, this particular journey is spiritual, personal. Before the journey I take through the mountains surrounding Challis, there is is a journey of preparation; the talking and planning with friends, family, and fellow runners, and the trip up with my wife and dogs to a familiar, beautiful place. This year, my wife, Katrina, is carrying our first baby, due two months after we return from Challis back to Boise. I like to think of our child coming up to Challis, some day, to participate in this event and support this community. The journey continues well after the race, as well. 
The Lind family, the volunteers, and the runners who seem to come back every year are a community. If only for a few days every year, and more so than I experience at other events, we come together as a family, in this small mountain town, and we agree to take care of each other, support one another, work our tails off, and have fun. It's more than a race, more than a run, and more than just a bunch of nice people. I don't know why, exactly, this race feels this way so much more than others, but I suspect it is this community and something about these particular woods. 
I find peace in the woods, I always have. When I tell people that I find peace during ultramarathons, many don't understand. Well, I am not a particularly fast runner, and as such, I am able to "stop and smell the roses" more than I might when trying to race in a shorter event. I am out there a long time when running a 100k, so I not only get all the different trail conditions, but I get to experience different weather (in the mountains surrounding Challis, it sometimes seems like different seasons), drastically different times of day and night, and I get to meet and chat with a lot of different people on the trail and at the aid stations. And we make connections, so many connections.
People write race reports for many reasons, and others read them for various reasons. I am writing this in reflection as I mentally prepare for a 100 mile race tomorrow, in Vermont. Tomorrow's course will not be technical, will not have the type of climbing and descending that RONR has, and although it will be longer, I am not sure the effort will be much different, and that is not to take anything away from a Vermont course I haven't even run yet. It is to share what a challenging course they have put together up in Challis. It is relentless. The course requires the runner to dig in, be ready to climb, and descend, seemingly forever. There aren't any "rollers" or "runnable" sections for a runner like me. I run when I can, but I do a lot of hiking. I want to get better. I ran more this year than I did last year, and more last year than I did the year before. Still, though, I need to make a commitment to running the mountains outside of Challis. 
This year, I trained with Carolyn and Leanna, with whom I have been training and running with for years. Carolyn and I ran the 100k two years ago together and Leanna was joining us for her first 100k this year. We arrived with thoughts of the snow, rain, and river crossings we'd experienced the past couple years and all three of us had our fears of what the course (and/or Paul) would throw at us this year.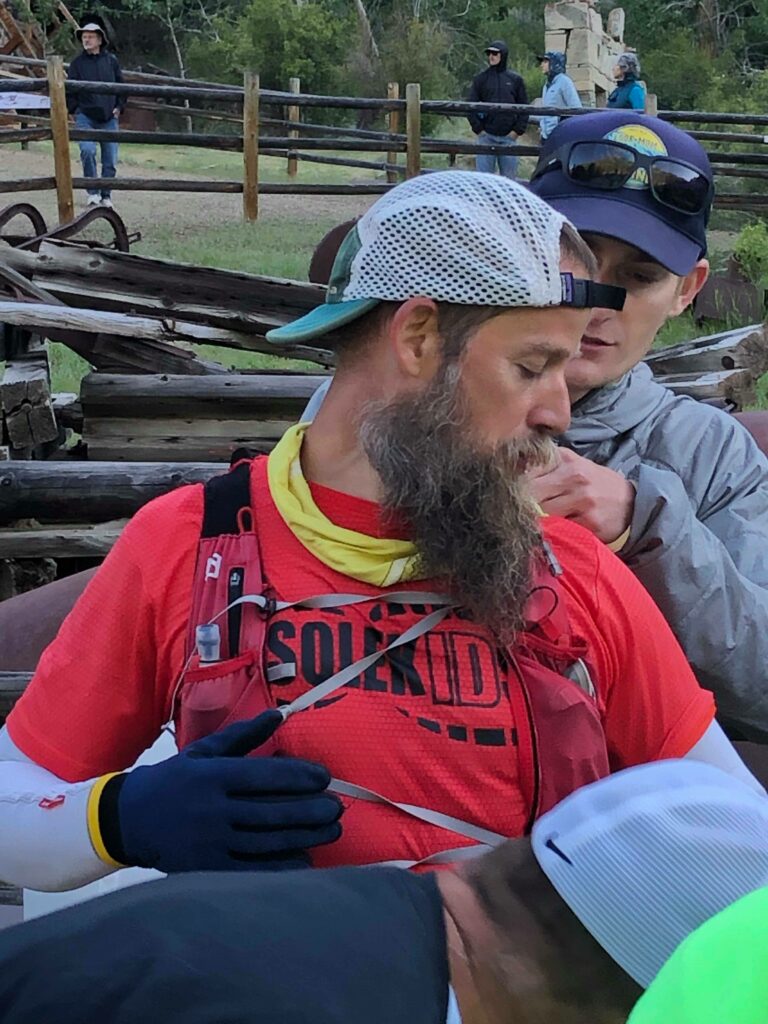 The weather and the course this year were mild in comparison to previous years. There was some mud and a little bit of snow to traverse. We may have gotten drizzled on for a little bit. And we had some sun. The weather was, dare I say, pleasant. Last year, people (those of us in the mid to back of pack) were getting hypothermic later in the race. This year, I welcomed the rain because it cooled me off. 
Last year, I spent the Idaho ultra season traveling to races with my friends Conner, Mike, Ariel, and others. For years, Mike has run with me at this race, reminding me to start slowly and take it easy (thanks, Mike!). Early on at RONR, I met Jill and Johanna and we worked together to complete the race. We went on to run together at multiple other races and spent the season closely supporting each other.
Still, these dear running friends and I keep in touch, although we have yet to run together this year. Those two can move on uphills. They just keep chopping their feet forward, rhythmically, and I am learning from them. These are two relationships I made on the course at RONR that I think I will maintain forever, alongside my other running friends in this report. They were all on my mind as I walked up to the starting line this year.
This year, Carolyn, Leanna and I stuck together most of the way to the first aid station (9 miles). There, I saw an old friend, Brittany, part of the Lind clan. I learned about ultrarunning alongside (ok, mostly way behind) Brittany ten years ago. Brittany has learned to work those uphills much better than me and become the type of runner I could only dream of being. I take a picture with her at the aid station and I am motivated by her presence and camaraderie. She, like Paul and Cody, is a top athlete in this sport, yet there she is, in the middle of the woods, supporting and cheering on runners like me. These are the connections of which I speak.
From there, I ran loosely near four other runners down to Bayhorse (16 miles, 3rd aid station), where I was greeted by and given advice by Paul and Cody (the RDs). My new friend Keenan and I came into, and left, Bayhorse together for the climb up to Ramshorn. Joined briefly by Colton, a friend from Boise, the time passes as quickly as it can as we take in the unbelievable views, talk, and end up solidly entrenched in a group with Patrick, Jamie, and Genny. The five of us would stay together, more or less, for most of the race, taking turns leading, laughing, telling stories, and even sharing in the joy and positive, refreshing energy of Genny and Jamie's pacers later in the race. More connections, more amazing people, more reasons to run ultras and to come back to Challis each year for this particular event. 
As dusk started to settle in, I knew I wanted to be over the last climb and into Buster Lake aid station (63ish miles) before it got dark, so I did my best to channel the energy of Jill and Johanna and I moved as best I could. Not needing to turn my headlamp on until after Buster Lake is a huge confidence builder. It is approximately 10 miles to the finish, downhill, and if one has any legs left, it is runnable. Last year, I met Derek and he and I traversed this together (thank you, Derek). This year, I was on my own, and I was tired. All I could think about was where Carolyn and Leanna might be and how they might be doing. Katrina had been at every aid station she could be at, taking amazing care of me, my feet, my heart, my brain, my stomach. There is no better partner in the world than her. She would keep me loosely updated on the two of them, and I didn't realize how much she actually knew. It turned out that they were doing fine, not in small part because she waited for them at each aid station and helped their crew take care of them (and other friends, too). It was Katrina, Carolyn, Leanna, Mike, and the others that were on my mind as I forced myself to run 500 steps, then walk 100, all the way to finish. I counted each step in my head and found a rhythm. I was 45 minutes ahead of last year and almost two hours ahead of the year before. My mind was tired, though, and as I came into Custer Motorway, the last aid station, I needed a pick me up.
From way down the road, I saw blinking, glowing lights and heard a lot of noise. It was Conner and Ariel, good friends and fellow runners, the officiant and musician from our wedding, respectively. Here they were to provide end of race motivation and they did so in style. Alongside Katrina, they checked in with me, provided motivation and food, and sent me on my way! How amazing to have these friends out there directing an aid station! Katrina walked down the road for a half mile with me and helped me get focused. I now had the energy to get to the finish!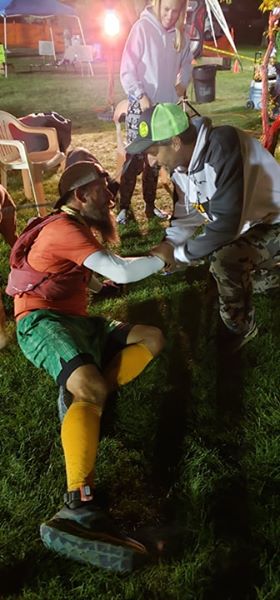 The finish line, as always, was glorious. Although it was late at night, there were friends waiting to congratulate finishers: top ten finishers like Jose, 55k runners like Rachael, and people like Drew, who had been scouting and marking the course for days and hadn't had much sleep.  Cody, Paul and Brittany were there. Katrina was there with the dogs. We embrace. I give the baby belly a kiss. I get down on the ground and get a tongue bath from the dogs. A hand comes out of no where to help me up. It's Paul. For the next couple hours, we cheered in all of our friends, new and old, while listening to a questionable playlist from Paul and eating anything that my body would accept. Of course Carolyn and Leanna finished strong! They are amazing! Everyone finished strong and was elated. We took pictures at the finish line, shared photos, email addresses, and phone numbers, and promised to keep in touch.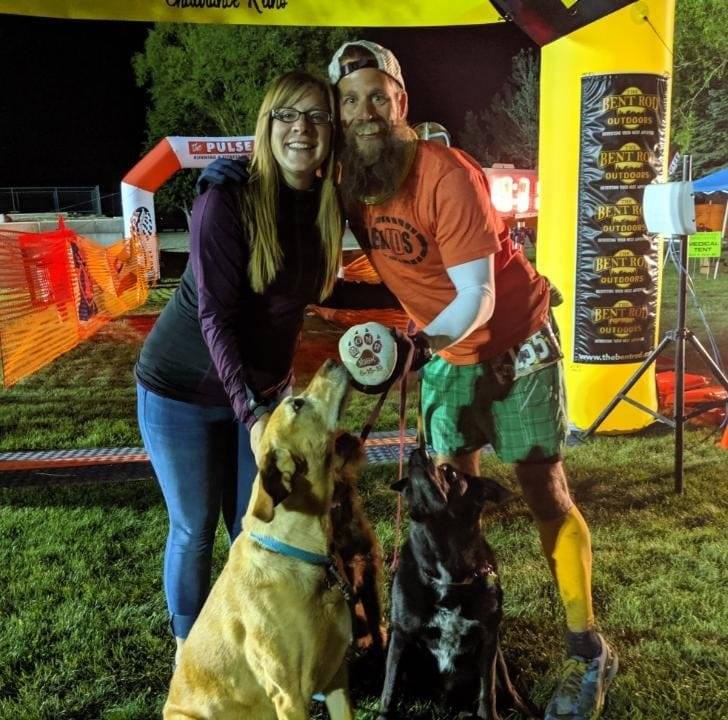 It has been a month since RONR. Carolyn, Leanna, and I talk at least once a week about it, as we are all still reflecting. I have been in contact with folks from this year and last year, and we have been sharing the joys and pains of the ultramarathon season.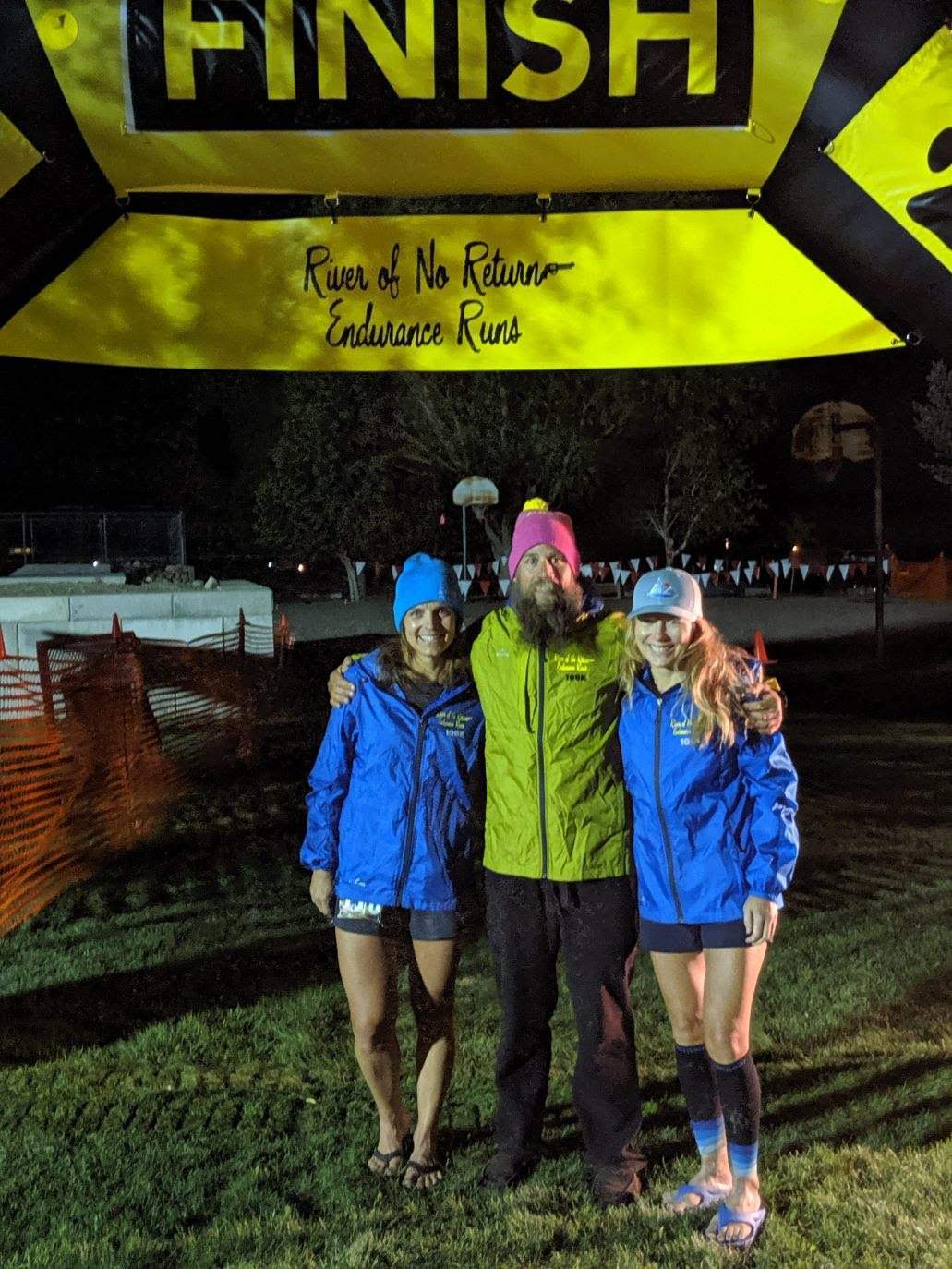 Last weekend, Katrina and I ran at an event in Nova Scotia with the Nova Scotia Trail Runners. Alongside the texts from Conner, Ariel, and others this morning, I have messages from a couple of our new Canadian ultrarunning friends on my phone, too, urging me to do well tomorrow and to be careful in the extreme heat. More connections.
I will be careful. I will not go out too hard. I will stay hydrated. I will keep my legs moving. I will trust that the plan that Katrina and I have come up with, and gone over many times, will work. Drew is flying from Idaho to run (much faster than me) and we'll spend some time with him. I will be rendezvousing with a childhood friend, Rebecca, from New Jersey and her NJ trail running friends who are participating in this race. People like Matt are veterans of the Vermont 100 who I met, years ago, on some wintery runs in New Jersey. Their crew and pacers will help Katrina and I navigate the course. As I continue to make these connections and run these races, RONR is my touchstone for excellence in ultrarunning events. That event reminds me of the reasons I run and how important the relationships and connections are. It reminds me of family. Tomorrow, my sister, niece, and nephew will join Katrina as part of my crew and experience their first ultrarunning event. I couldn't be more excited to share this with them, and I know that during the lulls in this event, I will be telling stories of RONR, leaning on things that l learned at RONR, and  thinking of my friends that I made and have shared time on the trail with at RONR. 
Friendships, connections, family, reflection, journey, peace, challenge. I make the pilgrimage to Challis every year for those reasons. I am energized by the community there. I am at peace with myself and the world in those woods, with friends (both new and old) and family. This event sets the bar for all others.
A.J. Zenkert